At Heroeya in southern Norway, the country's biggest onshore industrial site is planning to go fully electric by replacing its use of natural gas with power from the grid, part of a nationwide push to cut the country's CO2 emissions.
But Oslo's plan to electrify big industrial sites to comply with the 2015 Paris Climate Agreement is clashing with voters' concerns their power bills will increase, as higher demand puts heavy pressure on limited supply.
It's an illustration of a conflict at the heart of environmentalism, between the desire to electrify everything from transport to industry, and an equally strong interest in protecting nature from the negative impact from new power plant construction.
Higher power costs are particularly galling for consumers in Norway, given that its natural energy reserves in the form of hydropower have historically meant its electricity was cheap.
Norwegian voters, for whom higher power bills are the main issue of concern currently, are already paying more due to the European energy crisis, which could lead to the postponement of some electrification projects.
"Everyone is fighting about the little power we have," Gunnar Tveit, 75, in the town of Porsgrunn, where Heroeya is set. "This is going to be very hard."
Until now a power exporter, Norway is expected to have a power deficit from 2027, according to the country's national grid operator, partly due to its plans to electrify big polluting sites.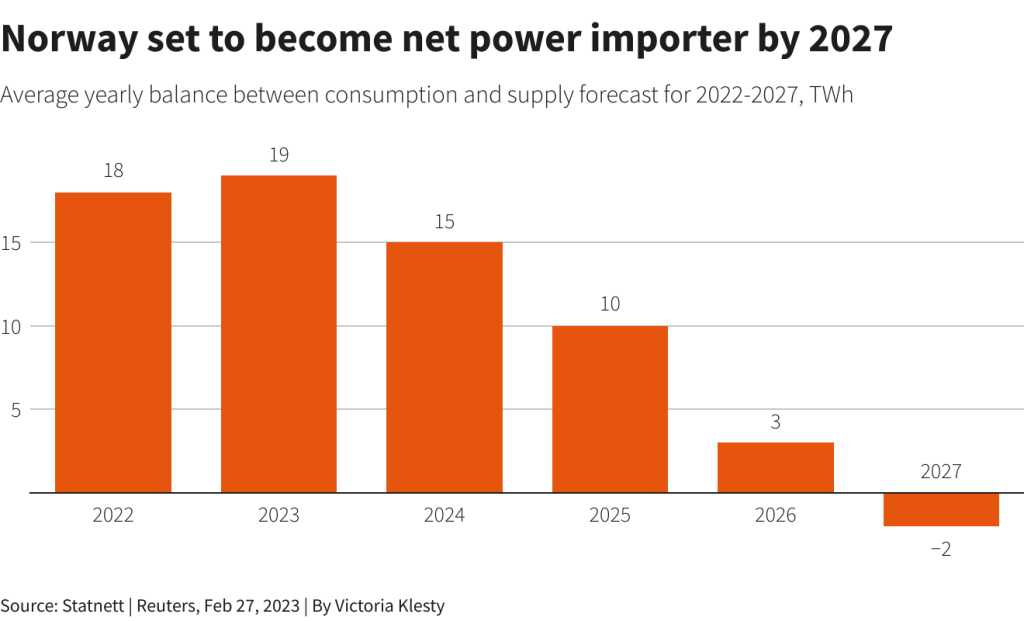 NOT ENOUGH SUPPLY
Fertiliser maker Yara International, one of the companies based at Heroeya, uses vast quantities of natural gas to make the hydrogen it needs to produce 500,000 tonnes a year of ammonia.
In the future it hopes to produce hydrogen by using power to break up water molecules, a tried-and-tested though expensive method that Yara is building a pilot plant to further explore.
But as of now there is not enough electricity supply and grid capacity to power full-scale electrification, said Lise Winther, the executive in charge of the project at Yara.
"We need power at affordable prices," Winther told Reuters. "We also need proper governmental support to be able to make this shift. We are in a global competition, and we need to have support schemes that fit with what is available in other countries."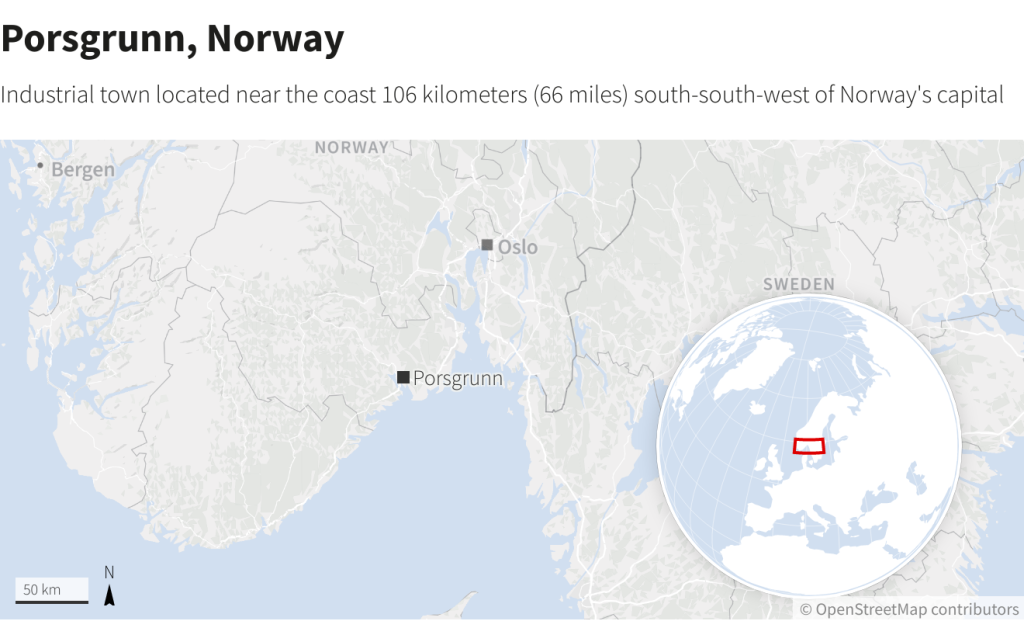 Oil and Energy Minister Terje Aasland said authorities were doing all they could to stop Norway becoming a net power importer by 2027.
"To avoid a power deficit, we must build more renewable energy, we must build more power grid lines and we must be more effective in our consumption," he told Reuters.
The country produced a record 154 terawatt hours of electricity in 2020, some 90% of it from hydropower in dammed reservoirs and along rivers, and the rest from wind farms. But expanding production is proving tricky.
Building new green energy sites to power expected new demand can be problematic. This week Indigenous and environmental campaigners, including Greta Thunberg, blocked entrances to the energy ministry to protest against 151 new wind turbines built on land used by Sami reindeer herders.
Options to expand hydropower are limited, onshore wind farms are facing local opposition across the country, and plans to build large-scale offshore wind farms have been scaled down due to controversy about exporting power.
LIMIT EXPORTS
The government is confident it can achieve its ambitions to electrify big polluting sites, citing its first ever offshore wind licensing round to be launched this year and changes it has made to make building onshore wind turbines faster.
It is also ready to limit supplies to other countries if needed. In January, it said it could restrict power exports if water reservoirs at hydropower plants fall to very low levels.
When Oslo first mooted the plans last year it drew ire from its Nordic neighbours, worried that this could be the first step towards European countries protecting their own power supplies.
Norway, not an EU member but part of the European common market via the European Free Trade Association, denies it is protectionism, likening its move to European efforts to prioritise filling gas storage to ensure sufficient winter supply.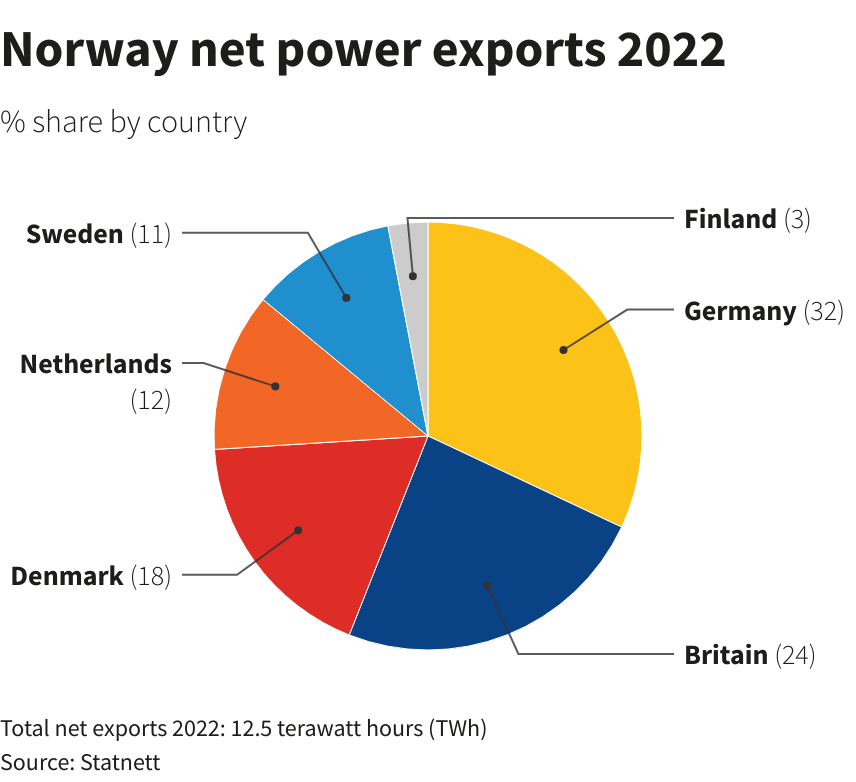 The country needs to be similarly resolute to meet its climate goals without risking the loss of big industrial consumers to other countries offering cheaper electricity.
Stein Lier-Hansen, the head of lobby group the Federation of Norwegian Industries, said a lack of power could nip ambitions of building a green transition technology hub at Heroeya in the bud, and companies could start looking elsewhere.
"We have seen a dramatic rise in (power) demand," Lier-Hansen told Reuters. "What we are seeing at Heroeya, but also other places, are projects being postponed, not necessarily cancelled – in the worst case, these will be built in other countries."
(Reporting by Victoria Klesty in Porsgrunn and Nora Buli in Oslo; Editing by Gwladys Fouche and Jan Harvey)