Gero Renker, co-founder of Program Framework, a Microsoft partner specialising in enabling project delivery and collaboration, talks about how organisations can benefit from integration between Project for the Web and Microsoft's Power Platform.
Project for the Web was built by Microsoft to deliver ease of use for project planners and teams. Our customers love its attractive user interface, the ease of sharing projects with team members, the ability to adjust online timelines and many other features.
But it's worth taking a look under the hood to consider the infrastucture that it was built on – Microsoft's Power platform. It may not be immediately obvious how significant this platform is to the future of the product, as well as to organisations who choose to adopt it.
What is the Microsoft Power Platform? 
The Power Platform combines the amazing capabilities of Power Apps (to rapidly build custom, low-code applications), Power BI (business intelligence) and Power Automate (process automation). At the heart of it is the Common Data Service for Apps (CDS).
CDS is a secure database hosted in Azure Cloud prebuilt with a standard set of entities. These entities (for example Accounts, Contacts or indeed Projects) are extensible – so you can add additional data fields, or entirely new entities. These are defined with relationships to each other and all sorts of business rules to fit your business needs.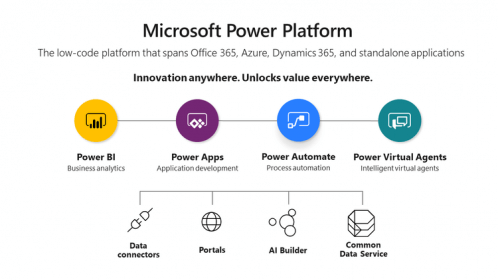 What does this mean for Project for the Web? 
Project for the Web stores its data in the CDS, with entities such as projects, tasks, and assignments.
As a result, it is highly extensible, allowing you to add custom data content and creating Power Apps to maintain and work with the data (e.g. a custom risk log linked to your projects, with a mobile app to maintain). It also has the very responsive user experience that is typical for tools in the Power platform.
But there is a very strategic perspective that I think is hugely important: consider that the Power Platform is one of Microsoft's key investment areas – and if your organisation has chosen Microsoft cloud as its operating platform, then the Power Platform has the potential to transform any area of your business.
If this is not happening already, you can be sure it is only a question of time.
Therefore, deploying Project for the Web and other Power Platform features for your PMO and project teams is giving you the opportunity to join other business areas in a drive for digital transformation that links everyone up.
Five strategic Power Platform qualities
Here are what I consider to be the key qualities of the Power Platform that are going to be of strategic value to your project organisation:
        1. Collaboration
The Power Platform makes it easy for everyone to work together. It delivers modern work management tools – not just Project for the Web, but also other tools such as Planner, To Do and of course Teams.  You can even extend your organisation with web facing Portals, to share information and collaborate with external parties such as suppliers and customers. Breaking down silos and joining everyone up is surely a key to project success.
       2. Flexibility and Speed To Deploy
Power Platform capabilities can be set up to deliver solutions to your specific needs –rapidly! 'Low-code' solutions created with Power Apps in combination with the highly extensible Common Data Service unlock new opportunities to transform your processes, with features built in days, not months.
       3. Automation
Power Automate can deliver great productivity gains by automating time-consuming repetitive processes such as approvals, alerts, data compilation and report creation.  Automation not only increases efficiency; it also increases consistency and minimises human error by ensuring tasks are performed the same way every time.  As such it is a powerful enabler for establishing governance rules and increasing compliance.
        4. Integration 
There are so many integration scenarios that are typical for project environments, such as bringing in actual costs from your finance system, automating tasks management across tools or integration with SharePoint document management. The CDS delivers out-of-the-box connectors that can bring together project data held in disparate data silos and connect systems and people easily.
        5. Visibility
The Power Platform is the home of Power BI – the tool that propelled Microsoft to clear leadership in the Business Intelligence space. All previous points will contribute to an increase in valuable data – Power BI delivers that value to your business. Our customers love it and we see the impact it has on project organisations: stakeholder engagement, emergence of data driven cultures supporting better decision making and driving behaviour change towards increased maturity.
Summary 
Nowadays there is a huge choice of attractive web-based project tools that you can sign up to and deploy to your team – but beware: you are at risk of creating your very own silo with implications for user experience, data access, compliance and security.
This is why Project for the Web within the Power Platform is a fundamentally different choice if your organisation is already investing in Microsoft cloud – it places you right into the strategic collaborative eco-system.
Microsoft's Power Platform has the power to address your PMO's day-to-day challenges, combining flexibility with speed to deploy, security and compliance.
It allows you to integrate disparate data sources, increase effectiveness through better visibility of the health of the projects and programmes you control, and increase efficiency by automating repetitive manual tasks.
It can be personalised to meet your specific requirements and it allows you to capture the exact data content you need.  Most importantly, it creates a virtuous circle based on complete and timely data, better decision making, and more effective collaboration – and increases the value your organisation places on its PMO.
Finally, let's consider the future: the rise of Artificial Intelligence (AI) is happening and infusing modern business applications, sometimes without us even realising. Microsoft as a leader in this space is packaging AI features into the Power Platform, making them consumable and useful.
With Gartner predicting AI to be of decisive competitive advantage in the future, even more reason to fully consider the strategic value of the Power Platform for your project world.

Gero Renker is a co-founder of Program Framework, a Microsoft partner specialising in enabling project delivery and collaboration with Microsoft cloud.
Program Framework offer readily available PPM solutions delivered through the Power Platform – for more information see www.programframework.com