The last decade has seen retail transformation accelerated at an unprecedented rate, from concept design through to shop floor, driven by an ever changing environment. Consumer expectations and behaviours are evolving in an ever connected, social world.
Technology has evolved and changed the very way retail operates, introducing pure Etailer competitors, and increased pressures to invest in ecommerce and stay competitive. Financial pressures internally and externally are greater than ever, with both the costs of goods and their transport increasing.
Political, Social and Economic impacts have hit retail at every point in the supply chain and environmental costs have also increased substantially. There is also fierce competition for talent in the industry demanding that firms invest in their staff development and employee perks to attract the best people..
Keeping up with the latest consumer trends, the latest technology and matching competitors is not enough. The ability to transform at pace is the new defining factor in a successful and surviving retailer. However, what are the hidden costs in achieving this?
Even where there is a healthy cash flow and the ability and drive to transform, a lack of specialist and specific programme management disciplines can lead to increasing chances of failure.
The more fundamental question is how retail transformation be delivered more effectively? And how can that transformation be delivered effectively and cost efficiently without compromising on quality? The answers to these questions have never been more important to survival.
Being Lean, being Agile and delivering change at pace has been a core message of many retail change functions in the last decade. But what does this mean? Some of the largest names on the UK high street have had successful change departments, experienced programme managers and robust in house methodologies, but have still been unable to keep trading.
With these retailers seemingly set up for transformational success, why does failure remain so common?
PwC addresses this question by using an established "12 Elements of Delivery Excellence" model (shown below) to review clients' programmes and projects.
This gives a complete view of all of the contributing elements to successful delivery, is used to identify key risks to this success and helps to improve the maturity of clients programme and project management capabilities.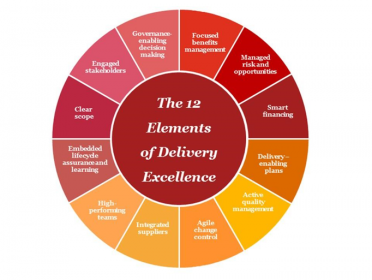 Diagram 1: PwC's "12 Elements of Delivery Excellence" framework
Covering all industry sectors and clients across the globe, our maturity assessment exploring these elements of delivery excellence has been used on over 200 individual programmes.
For each of the 12 elements, the online tools calculate a maturity score and highlight the most important areas to focus on for improvement, together with suggested actions.
The maturity scores range from 0 – Absent (discipline has not been established or is not applied) to 5 – Optimised (discipline is best practice, consistently applied and plays a critical role in successful delivery).
We use interviews, documentation reviews and a specially designed online assessment tool to build a complete view of our clients' ability to deliver their change programmes.
Using the scored results of these maturity assessments we are able to see trends across the twelve disciplines over the lifecycle of a programme at various stage gates. It is worth noting here, that the all the 12 elements will be relevant throughout a programme, with some elements taking a more focused role during some project stages.What trends can we see across the Retail and Consumer?
The following diagram shows the average maturity level scores from our assessments across the twelve disciplines: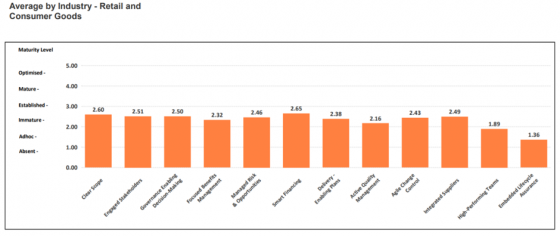 Diagram 2: Average maturity ratings, by 12 Elements framework – Dec 2017
Our findings show that current maturity scores across all of the 12 elements leaves significant room for improvement. Unsurprisingly and in light of the industry pressures outlined earlier, our clients are becoming increasingly effective in elements such as Smart Financing and Clear Scope. We expect these capabilities to continue to mature going forward.
In an already competitive market and an uncertain economic environment, we are seeing industry leading clients focus their efforts on activities such as large scale supply chain and finance transformations.
These have a clear objective to streamline and centralise internal operations, making processes more efficient and leveraging technology. Clarity on the scope of these programmes and the smart management of their finances will be vital in ensuring their success.
Conversely, the areas scoring lowest overall are:
Active Quality Management,
Embedded Lifecycle Assurance and Learning,
High Performing Teams and
Benefits Management.
It is worth noting, that this lack of maturity is not an indication that these are any less critical in delivering effective programmes. As such, these elements will be our focus.
Active Quality Management
Quality management can be subjective and traditionally monitored by the SMEs and technical roles within a project. The 12 elements of delivery excellence puts the a quality management focus back in the programme office, making it an objective deliverable.
The benefits of quality management ensure that change is fit for the future, not just for go live. It also ensures that the quality of the deliverable, how it is signed off and by whom is agreed in advance. The power of this ensures that all expectations are met, thus saving time and money in the long term.Embedded Lifecycle Assurance and Learning
Most Programme Sponsors require external assurance of the mobilisation phase to ensure that the business case is challenged and the plans are aligned to achieve this.
Programme assurance is closely aligned to other 12 elements such as established programme governance and delivery enabled plans. The assurance helps to set the project up for success, removing ambiguity and inspiring confidence into the delivery team.
As well as the importance of strong lifecycle assurance during the mobilisation of a programme, it is also essential in the handover to the business. Lessons learnt as well as assurance activities are an integral part of acceptance and integration to business as usual.
Lessons learnt can come from previous experience of the project team as well as structured lessons from within the business. This helps to strengthen the delivery and ensure that plans and governance take the lessons learnt into account.
High Performing Teams
On large and complex programmes it is easy to focus on the process, leaving building positive team dynamics and collaborative ways of working, down the to do list. A strong leader with a motivated team with the right capability has always been at the heart of transformation, and retail has a passion above any other industry.
Traditional high performing teams are still the core of a successful transformation, but it is now an essential part of programme management. Alongside the 12 elements of consulting, PwC also provides a framework called 'Perform' which provides structure to a creative and collaborative working environment.Focussed Benefits Management
The delivery of benefits is clearly at the heart of all change initiatives and often what motivates the need for transformation. Benefits management is not just a technique for investment justification but an integral part of programme delivery – all aspects of the programme are designed and delivered to realise defined benefits.
If programme activity is not contributing to realisation of benefits, the activity should be challenged. Benefits management should be defined with a clear approach at the beginning of a project to maximise the time.
Recommendations for future
In order to increase standards in these areas and improve the chance of programmes being delivered successfully, we recommend the following actions for organisations to focus on:
Active Quality Management
A project can be on time and to budget, but if the quality is sacrificed, has the project really been a success?
Retailers should consider:
Developing a quality strategy alongside a workable quality plan.
Pre defining the stage gate reviews, utilising external / objective input.
Developing detailed deliverable descriptions and utilise these at each sign off. Don't be afraid to use 'Voice of the Customer' techniques to articulate customers' needs.
Establishing a robust governance and control mechanisms. Formal quality reviews should be laid out in the quality strategy.
Embedded Lifecycle Assurance and Learning
A clear assurance plan with quality reviews and embedding learning cycles can ensure not only the success of the current programme, but any future transformations.
Recommendations include:
Identify previous issues with existing programme structures
Create improvements on these to increase the chance of success.
Create a mechanism to capture lessons learnt, supported by stage gate scheduled reviews.
Ensuring assurance and learning form part of the overarching governance.
High Performing Teams
Ensuring that your team is set up to deliver success is more complex than engaging experience and skilled individuals.
A high performing team should consist of:
Clear roles and responsibilities with an agreed RACI.
Open and trusted escalation paths.
Clear communication of the programme vision, stakeholders and plan.
Opportunities are created to share knowledge, lessons learnt, and update skills to ensure a continually high performing team.
Focused Benefits Management
By developing a realistic and achievable business case, the benefits can be clearly defined, owned and tracked with the appropriate level of challenge.
Benefits should be:
Measurable with an agreed baseline, clear phases of identification and realisation with agreed tracking.
Quantifiable during programme mobilisation.
Monitored and tracked throughout the programme life cycle.
The traditional retailer, the disruptor retailer, the etailers and those in between are here to stay and survive. By ensuring the strategy is fit for the future and the transformation programmes are continually assessed for delivery excellence, retail will continue to thrive, be innovative and continue to showcase the passion of all retailers.
Retail transformation is led by those who believe in the future retail and the strong foundations on which it is built. Retail transformation delivered by those who can drive that passion, and continually reach for support and seek improvements.
Nick Marshall and Emma Stanyer are Managers at PwC.