Our Associate Editor, Amy Hatton, recently spoke to Louise Allen, Chief Product Officer at Planview, the PPM technology vendor specialising in portfolio and work management solutions business.
Together, they reflected on another extraordinary year behind us, before looking ahead to what's next for product and portfolio management and how Planview intends to support customers through the year ahead and beyond.
Amy: In the ten years I have been editing PM Today, I have watched Planview travel an extraordinary path characterised by growth and maturity. But this year has been particularly notable, hasn't it – not just for Planview but for the sector as a whole?
Louise: You're right, Amy, it has been a remarkable year! I have been part of the Planview family for fourteen years now, and 2021 has probably represented the biggest amount of change (in a positive way) I have ever seen at the company. Before we dive into that, I'll step back a little and consider the evolution of the market as whole. The overarching message that we're hearing from customers is around the pace of change. It is, quite simply, like nothing we have ever seen before. As a consequence, we're seeing more of our customers change their business operations in order to be able to adapt and respond more effectively. One way we see this is the move away from annual planning. Whether you call it Agile or not, frequent iterative planning is becoming increasingly business critical. Without it, the plan becomes stale before it has even been implemented. That shift has been happening in PPM for years – but it has never been more relevant. Nobody knows what 2022 will bring, plus many people are still adapting to a hybrid working model. In that context, it's crucial to have complete visibility, and ensure that strategy is connected to delivery, so that we're achieving meaningful, connected work to push the business through that evolution to what we at Planview call Modern PPM. I think that our focus on these priorities is what attracts customers to Planview. In particular, our profile at a C-suite level is growing because, of course, these are the issues that keep executives awake at night, and that they're keen to address.
Amy: Does this mean that we'll see Agile totally winning out over Waterfall and Hybrid in the years ahead?
Louise: It's true that more than eighty percent of our customers are geared towards some sort of Agile journey. That said, since I have been at Planview, I have only ever met one customer that is, in reality, one hundred percent Agile. The truth is that, especially in larger companies, it's simply not realistic to change the entire ecosystem that quickly. So, the reality is that we're operating in a largely hybrid world now. Whether you're Agile, or Waterfall, or a mixture, the same principles apply. It's about adopting a holistic approach to ensure that, whatever the methodology, connected work is being rolled out right across the enterprise.
Amy: You mention your larger clients – does that mean that Planview is only relevant for companies of a certain size?
Louise: Quite the contrary! I think one of Planview's biggest strengths is, whichever step of the maturity journey you're on, we have a solution. A big headline for us in 2021, of course, was that Clarizen and Changepoint joined the Planview family. Those acquisitions have catapulted us into a new market – professional services automation (PSA). We're excited about the value we can offer that sector, as well as all our customers. Clarizen has driven growth of our mid-market customers that are looking for a modern agile project and work management experience along with robust PSA functionality as well. And Changepoint, of course, brings extensive, very mature capabilities for our professional services and consulting companies. They both extend the breadth of our offering and have brought new points of expertise to our products and our services. So, it doesn't matter whether you're embarking on your first Agile transformation and need a lighter touch tool, you're at the start of a PPM maturity roadmap, or you need to scale something out across the enterprise. We're equipped to meet organisations wherever they are and travel that road with them.
Amy: And these are not the only big changes Planview has undergone this year, are they?
Louise: No, it has been a busy year, for sure! We have new ownership, a new CEO…plus, we have gone through an intensive strategic planning process – because although there is that need to plan iteratively in shorter cycles, it's still important to have that overarching strategic view. We're investing a huge amount into product R&D to solve customer pain points even faster. Increasingly, we're seeing those products used not just in IT or the PMO but across the enterprise. That's great, because it all helps to move our customers to that world of connected work where they need to be.
Amy: And in terms of Planview's product base and the R&D you mention, what will the focus be for 2022?
Louise: Our biggest priorities, from a product perspective, will be continuously improving our User Interface and User Experience. My ultimate goal is that every one of our products has the same Planview look, feel and ease of use across the board. Additionally, we're focused on the Planview platform.  Across all our products, from our strategic PPM tools to our Innovation, PSA, Enterprise Agile and Work Management offerings, we're seeking to make them as seamless and as easy to adopt and use as possible. A lot of vendors sell customised software as a benefit. But actually, Planview products have been developed over many years to deliver what you need, out of the box. Of course, we configure it to your challenges. But heavy customisation, in my experience, is likely to cause major challenges downstream in terms of upgrades and staying current.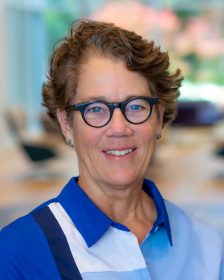 Amy: And how does Planview support the wider customer ecosystem?
Louise: We take a holistic view of the customer journey. The big investments this year that will continue next year have been around supporting the customer in their journey mapping, so that we understand where they are now, where they need to go, and how we can underpin that in a meaningful way. We support customers pro-actively with an extensive resource set – training resources, thought leadership content, workshops. So, it's about understanding each customer's unique journey, and serving up value adding content as well as tools to support them in that.
Amy: I think it's fair to say that the technology vendor market is saturated. It can be daunting, can't it, knowing which vendor is right for your company? Do you have any advice for our readers about how to do that?
Louise: First up, ensure that the vendor can support you not just one year, but several years from now. Also, we talked a moment ago about customisation. If your vendor has to deliver lots of customisation before you can even launch the product, that's a big red flag. You need that functionality today, out of the box. If the vendor can't deliver that, you need to wonder why?  Make sure that PPM is the vendor's core business and that all their focus and investment is on that area. You don't want your organisation to be their guinea pig! Finally, ensure the vendor has a great reference set not just generally, but on customers that are relevant to your size and sector. If you drill down into these areas, you're far less likely to end up with buyer's remorse.
Amy: Finally, Louise, what do you love about being part of the Planview family?
Louise: Well, as you know, I have been here for fourteen years and watched us grow into this fantastic company with great people and products. Watching our customers run and grow their businesses off our software, seeing what they are achieving, that excites me. I truly believe we are equipped to do something exceptionally special in the market. We have grown into a company that I'm so proud to work for. That's why I'm here, and that's why I have stayed with the Planview family for so long.
Find out more:
Explore how Planview's Project Portfolio Management Solutions can help your organisation speed time-to-market
Read the case study: Southern Water Embraces PPM Best Practices to Grow and Adapt to Change with Planview
Planview is helping Santander to unlock enterprise agility in their transformation towards modern portfolio management. Watch the webinar here.
Louise recently hosted a fireside chat with customers, Johnson & Johnson and Becton Dickinson. Watch the session for their real-world stories of cultivating a single source of PPM truth.